Seems like an eternity since my last entry. I haven't had much of a chance to reflect and I'm just now finding myself sorting out the events, thoughts, and emotions of the past few months. I think back to the days leading up to Nicholas' arrival and I'm struck by how much I've changed. I remember what I was feeling but I can only see it from a distance. All the darkness, doubt, and anxiousness was absolutely real but when you move forward on the journey you realize that you've grown and it's difficult to recognize the person you left behind. I look back at that scared girl with a changed heart. I see her and I am helpless, I can't help her because the journey is in part, part of her growth. The only thing that I would tell my former self is to continue to have hope, hold onto your faith, and just wait until he's here- it will all be so amazingly different.
We are settled into a comfortable and familiar routine. Our days are relatively "normal" like everyone else. We've just grown accustomed to what is now our new normal. We just add in a couple of extra things for Nicholas like making sure we have medication measured out and prepared. He is currently on 5 medications which are administered at different times of the day. We also check and monitor his body temperature, monitor his heart rate and oxygen saturation levels, monitor weight, change out his feeding tubes, do gavage feedings, pump breastmilk, go to doctor and cardiology appointments, have bi-weekly home nurse visits, and have weekly PT home visits. Somewhere in between all of that we add in a marriage, a teenager with activities, an overactive toddler, an infant, household chores, jobs, and a newly founded nonprofit. It doesn't leave a lot of extra time for sleep or anything else but I try to find some quiet moments in the day. And in those rare moments, I remind myself how extremely lucky we are to be overly busy and so incredibly relieved I am to be so tired.
The day of Nicholas' arrival, I woke up and I just knew it was the day. The contractions felt like they were the real deal but they weren't progressing in the text book style way I was expecting. They would start to get closer together and then stop. I'd go from 5 minutes apart to 11 minutes apart so there was no real pattern. I decided to get things moving and had Jimmy take me shopping. We strolled about at Hobby Lobby and World Market for a while and after we picked up a few things we headed back home. When we got back, Jimmy noticed that my necklace was just hanging. The prong holding one side of the heart had broken, this was surely a sign that Nicholas was coming. About an hour later when the contractions started to get more intense and were only a few minutes apart, we headed for the hospital. All I really remember now looking back was how calm we were. The delivery was uneventful and rather boring really. The big difference this time was the huge team of nurses and doctors waiting for Nicholas in the room with us. Honestly, in my head I knew they were there but all I could focus on was delivering him.
Nicholas finally made his debut. He was finally here and he was beautiful. Nicholas was pink and screaming. He was nothing like the worst case scenario I had played out in my mind for all the months prior. He was doing so well in fact, that I got to hold him for a couple of minutes. They rested him on my chest and my mind was immediately cleared. All I knew and felt at that moment was love in its raw and simplest form. All the statistics, definitions, prognosis, anxiety, grief, it all disappeared. 
Then we were parted. As much as it pained me, I couldn't wallow in that because now it was game time. My only thought was to get back to him no matter where he was. So while the neonatal team took Nicholas, I was transported to another wing of the hospital. Jimmy followed and stayed with Nicholas and as soon as they would let me leave, I was wheeled down to the NICU. I spotted Jimmy and then I saw Nicholas in his isolette hooked up to all the machines and meds. I think it hit me weird because I could feel that I was starting to pull back and distance myself. I remember thinking how much I loved this little creature but for some reason I was afraid to touch him. I knew before getting to the NICU it was time to buckle in, but my heart wasn't ready to see him like this - oh my poor baby. I felt as if the nurses and doctors saw me and expected me to be an emotional wreck, who would blame me right? But I kept it together because I didn't want any of the attention; I wanted everyone to just focus on Nicholas. I know it probably came off that I was cold or that I didn't care as much. What they didn't know and couldn't see was that my heart was broken into so many pieces that it would never fully recover. I was crying on the inside and I was only ever half a breath away from completely losing it.
The next days were a blur. Jimmy and I went from the NICU to home and vice versa. Although we couldn't do anything for Nicholas while he was in the NICU, I couldn't stand to be away from him. I didn't care if it was 3am and no other parent had been in sight since 5pm, I needed to be there. And on those rare occasions when he opened his eyes, I wanted to see him and let him see me. The days and nights all ran together. When I would try to sleep for 2 hours at home, I'd wake myself up because I could hear the alarms sounding on Nicholas' monitor. When I was at the hospital and tried to sleep, I wouldn't because I just wanted to watch and hold him. All the while as I was with him, I felt guilty I wasn't home taking care of everything and everyone there. Thankfully, our moms were at our house holding down the fort with James and Alexander. Having them there was a huge help. It allowed me to release some of my guilt because I knew the house and kids were in good hands. Having them also allowed us to be able to go back and forth freely as we needed to with Nicholas.
That was our lives for 3 weeks. Feeling like we were in a constant limbo and trying to find a balance with having 2 parts our heart in separate places. Not ever feeling comfortable being in the hospital because we just wanted to go home. Not ever feeling comfortable at home because it wasn't our home. It wasn't our sanctuary as it once was, it turned into a place we went to check on and see everyone; it just became a pit stop.
Surgery day finally rolled around after a multitude of x-rays, labs, and tests. The post from Facebook on that day basically sums up how we were feeling. So far, that was the scariest and uncontrollable place to be in as a parent. Putting your child's life in someone else's hand however capable they are. Our stress level was heightened even more so because we knew how risky these kinds of surgeries and recoveries are. Then the waiting …more waiting …and even more waiting…
I'm not going to rehash all the posts we made from after the surgery. Needless to say though, we are so thankful and grateful to be on the flip side of that first surgery. Of course now that we are settled at home we'll have to turn around and do it all again... I think this will be one instance having experience isn't a good thing. Thinking about going back, I start to cringe. The long never ending hallway we have to trek to get to the set of elevators that leads to his floor, having to just deal with the lack of selection and entirely overpriced cafeteria food, and just having to do the whole back and forth game again. I think we got a small degree of hospital PTSD if there is such a thing.
Because we know that there is a possibility that we will be in the hospital for Christmas, we decided to start decorating early. We figured we could do with some extra Christmas cheer. As we were finishing decorating, I remembered something. I quickly ran downstairs to search for it and brought it up. I bought it months before Nicholas was born. I hid it separately from our Christmas things intentionally. I thought to myself when I got it that if Nicholas didn't make it through his first surgery, I didn't want to open our decorations and find it because that would have crushed me. I was so scared to even buy it and now I am so crazy relieved to be ableto hang it up.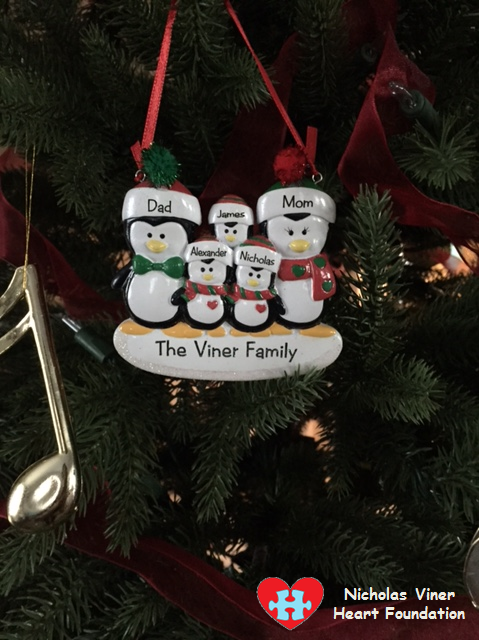 I know that the future for Nicholas is very delicate but seeing that ornament every day is just another reminder of how incredibly blessed we are. So until Nicholas' next surgery day comes, we are holding on tightly to our faith, hoping for continued blessings, and cherishing the memories we are making.
Categories: November 2015